LET'S TALK MULTIMEDIA FOR YOUR BUSINESS.
We are located on beautiful Vancouver Island, and tailor our services to:
Small businesses

Community organizations

Special events & projects

Musicians

Health& wellness practitioners
About us
OnTrack Media was founded by multimedia specialist Dean Richards in January 1998. We specialize in website maintenance, corporate videos, photography, online marketing and promotion. We also offer text editing & revision, translation (French-English-French), as well as recording and voice-over services. As a multimedia agency based on Vancouver Island (BC, Canada), we operate all around the world and can offer online services in English and French. 🙂
Our strengths: flexibility, creativity, interdisciplinary expertise and innovation.
Our work is professional, fast and efficient – always delivering high production value for your business needs. Our team of talented and highly experienced professionals know how to achieve the very best results on time and within your budget, every time.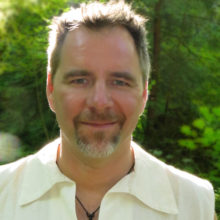 Dean Richards
Multimedia specialist & Owner
Dean Richards is a talented multimedia specialist, videographer, photographer, recording artist, music producer and sound engineer. For close to 30 years, Dean has been passionate about creating visuals and music to connect with people at a profound, positive degree.
He has worked and performed professionally in Canada, Europe, UK and the USA.
Professional highlights over the past 20 years
Starting webdesign and promotion in 1998
Marketed over 9 Real Estate developments
Built over 12 Realtor based websites
Created the #1 search Real estate website in Squamish
Produced, filmed and edited a Shaw TV show for 7 years
«I really needed my website revamped and Dean & Marie at OnTrack Media provided super fast service, thoroughly redoing it to make it not only user-friendly, but beautiful! They showed me how to add things myself; although I find that by the time I do something it would take me 2 hours while they can do it in 5 minutes, so I am thrilled to have them maintaining my site as well as with the new looks and efficiency.»
~ Georgina Cyr, Natural Health Consultant www.georginacyr.com
«Working with Dean at OnTrack media was a great experience. Dean has a great sense of humor and is a Down to Earth person, which made my small web design project fun. It was great to work with somebody that was prompt in answering emails, text messages and phone calls. Dean took the time to know who I am; what my clients would expect from me and put together a functional, affordable website. Thank you Dean, you totally over delivered.»
~ Daniel Haftkovitc, Owner, Monarch hypnosis
«Our company has used the communications services of Marie at OnTrack Media since 2010. Her writing and translations skills are impeccable, and her competence as a communications specialist have helped us on many levels; whether for internal communications, client and employee meeting presentations, administrative document design, website development, copy writing, marketing materials or translation, as well as video editing and voice-over. We strongly recommend the services of OnTrack Media for your business multimedia needs.»
~ Denis Charlebois, President ~ Solatheque www.solatheque.com
We make it all about you
Have a project for us? Contact us now!
Do you have questions about our services? Would you like a quote? Please feel free to drop us a line. We will contact you briefly.